Shanghai Nice Harmony Electrical co., LTD. is a professional company engaged in preventive maintenance, emergency repair, system upgrade, technology training for the medium-voltage and low-voltage drive, at the same time operating the world famous brands of drives and its spare parts sales, agent all kinds of servo drive products, PLC products. The company formulates industrial automation system integration, engineering design, installation and debugging and other services also.
Since its inception in 2008, with business expanding our company has made remarkable achievement in the field of industrial drive service. We have established extensive and stable relations with dozens of terminal customers in electric power, municipal, metallurgy, petroleum, chemical industry, building materials, mining, etc., spread around the country. We has a group of senior engineers with long-time working experience in various famous electric company, ready to provide fast and efficient service to our customers.
Through understanding and absorption on the basis of domestic and foreign advanced management concept and combines the actual conditions of the company, we make the most suitable service processes and products. Take care of every electric drive products. Become the most professional electric product sourcing solution and service provider as our vision.
With "the pursuit of excellence, whole-hearted service" for our values, cultivate the "come as soon as called for fight, fight to win" professional services team.
Shanghai Nice Harmony Electrical co., LTD. is an authorized systems integrators in industrial areas by Siemens, at the same time we also TMEIC, ABB, Rockwell automation's strategic partner. With many international famous automation enterprises we offer complete automation products solutions to our customer.
Services Introduction
Contract of Long-term Maintenance,
Preventive Maintenance,
Emergency Repair Services,
Electronic Circuit Board Repair,
Repair the Power Cell of Medium Voltage Drive.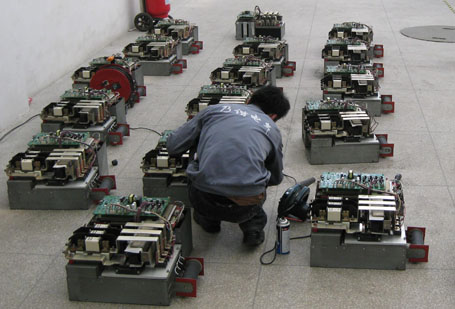 Shanghai Nice Harmony Electrical Co.,Ltd
Headquarters
Add: Building No.3, lane No.2328 Chunshen Road, Shanghai
Tel: 86-21-5438 5182
Fax: 86-21-5438 8963
Customer Care Hotline: 400-618-1682
E-Mail:service@niceharmony.com
P.C. : 201104


Beijing Office
1611, Building No.1, Wangjing Road, Beijing
Tel: 86-10-5738 9253
Fax: 86-21-5738 9031
P.C. : 100102